Mathew has been applying his craft to organizations, as a UX Designer where he has provided evaluation and design recommendations to improve their digital products, and customer experience.
He has provided evaluation and design recommendations for national brand clients in a range of different sectors such as Telecom, Health, Tourism, and the Financial Industry.
In all of these environments Mathew has experienced a variety of projects, such as: Traditional waterfall; Agile design sprints; Scrum methodology; Mobile-first approach; Human-centred design, and Lean UX.
He is practiced in Responsive web-design; Cross-disciplinary agile teams; Rapid-prototyping; WCAG2.0 accessibility guidelines; Usability research and testing. His process follows an iterative design cycle approach, based in user-centred testing and data-driven design.
Improving his personal development by continuously learning about user experience best practices, he also gaining insights on business processes, customer experience strategy, and the software delivery lifecycle.
Mathew enjoys being an advocate for usability, from conceptual thinking to micro-interactions.
"Design is really an act of communication, which means having a deep understanding of the person with whom the designer is communicating."
                                                                            – Donald A. Norman, The Design of Everyday Things
LEAD USER EXPERIENCE DESIGNER – BMO
User Experience Designer for Wealth Management and Small Business Banking products. Responsible for research, heuristic analysis, accessibility, user-testing, designs and prototypes.
LEAD USER EXPERIENCE DESIGNER – CIBC
User Experience Designer for Secure Online Banking. Responsible for heuristic analysis, evaluation, and responsive designs of applications for products and lines of business. Responsible for increasing application conversions, and sales of online credit products.
LEAD USER EXPERIENCE DESIGNER – AVERSAN INC.
Lead UX Design Consultant for Cancer Care Ontario. Performed Heuristic Analysis, Workflow Evaluation, and Wireframe UI Design recommendations for the Wait Times Information System used in all hospitals across Ontario to track cancer patients through their access to care.
USER EXPERIENCE DESIGNER – ROGERS COMMUNICATIONS
Responsible for UX Design of Rogers Online Channels – Rogers/Fido. Design of wireframes for desktop/tablet/mobile. Experienced in user diagrams/flows, and e-commerce buy-flows of monthly subscription packages, and mobile device plans. High-level rapid prototyping in an Agile environment.
UX/UI DESIGNER – LUSH CONCEPTS DIGITAL AGENCY
Interactive Production Designer – UX /UI. Mockups and final designs, whiteboarding, Omnigraffle wireframes, file and asset management. Client service/ liaison, research, QA/UAT, and issue tracking.
DIGITAL DESIGNER – ELECTROMAGNETIC DIGITAL MEDIA
Creative direction, project management, client/customer support, vendor relationships, and content creation. Web design, Mobile, Photography/Video, Flash animation, 3D modeling/animation, and Graphic design.
DIGITAL DESIGNER – ODDLY STUDIOS
Participated in client meetings, concept sessions, content mock-ups, event organization, and project research. Gained experience in project workflow and processes for auto-manufacturer clients.
INTERACTION DESIGN FOUNDATION – USER EXPERIENCE / INTERACTION DESIGN
The Interaction Design Foundation (IDF) is a non-profit global education initiative that provides Ivy League-quality UX and interaction design courses. https://www.interaction-design.org
Courses: Human Computer Interaction (HCI) Certificate; Gestalt Psychology and Web Design; The Psychology of Online Sales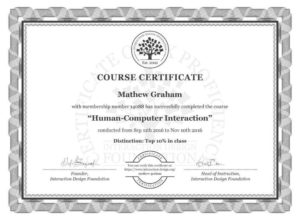 GEORGE BROWN COLLEGE – USER EXPERIENCE
User Experience courses, comprising of the fundamentals of UX: Visual Design, Information Architecture, Usability Testing, Research/Strategy. The different tools and approaches used in the multiple facets of UX: Strategy, Scope, Structure, Skeleton, and Surface.
SENECA@YORK – DIGITAL MEDIA ARTS, Honours Diploma.
Content creation for the web, social media, marketing and advertising campaigns, new media, television graphics, and special effects and animation for the film, TV and advertising industries. Digital file management on multiple operating systems and software environments. Achieved President's list honours for academic standing.
Mathew helped me with my newly rebranded web site. He proved to be creative and highly skilled, and delivered high quality content. Overall he did a great job, and I recommend working with him.
Mathew is a very conscientious professional paying a great deal of attention to detail. He applied his genuine dedication to each project he undertook. You can count on him to do what he says he will do with confidence. He was able to take on many different types of projects and was a real asset to the team. Working with Mathew is a real pleasure.
I worked with Mathew and I was very impressed with his UX skills. He is very detailed oriented and basis all of his design decisions on sound data driven, careful analysis and best UX practices. On top of that, he is very aware of the user and their journey, and doesn't compromise the best user experience for shortcuts.
Mathew is an outstanding teammate and one of those guys you want on your team! He is detail oriented and consistently adds value to projects by recommending best practices and utilizes his knowledge on the latest UX/UI trends found in the marketplace. A valuable contributor and hard worker, you can definitely count on Mathew to come through in the clutch!
Thanks for visiting!
Feel free to reach out or follow me.